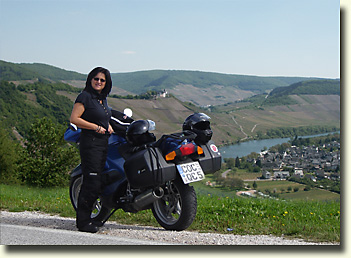 Motorcyclists welcome
We are not only motorcyclist friendly, we also drive them ourselves, when time permits.
We are happy to give you tips for nice trips on backroads and great lookout points only the insiders know. Here, you can get to know the most beautiful side roads and lookouts on the Moselle river and take in extraordinary views of the unique Moselle countryside.

A wine tasting in the evening then offers the opportunity to reflect on the day's events. Depending on the weather, we would be happy to combine your wine tasting with a barbeque.

Those who prefer not to make their own breakfast, receive a 'biker breakfast' in our wine tasting room or outside in warm weather.
Covered parking spaces are of course available to store your bikes, and if you are traveling by car with motorcycle trailer, it also has plenty of space.
We look forward to seeing you!
Beate & Franz-Josef