Merl and the Environment
'Merl' originated from the name Merila of Celtic origin and was first mentioned in 782.
Here Riesling vineyards were already terraced in the 17th Century.
The most striking building is the beautiful Romanesque tower of the former parish church of St. Michael from the 12th Century., The perfectly preserved cemetary stands surrounded by vineyards.
The parish church is of particular interest for the art historians, since it represents a still nearly undamaged nave, early Gothic monastery church.
Our altar is one of the finest Antwerp carved altarpieces of the 15th Century.
In the "Zandtstraße" the "Zandthof" that "Klapperburg" and have received a number of old half-timbered buildings. Up to seven noble families had castle-like homes.
On the Moselle River at the former train station is (as reconstruction) of the old ice tower.
Explorations in Merl: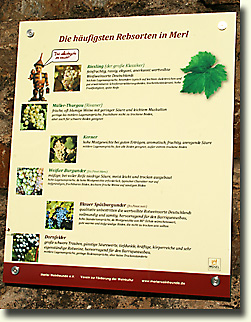 Der Pissamannweinlehrpfad (The Pissamann Wine Trail)
15 plates clearly inform hikers of the work of winemakers, grape varieties and vineyards. The distance of 6.5 km takes you about 2 hours to see all Merler vineyards.
The trail begins at the front of the church, marked by the bulletin board.
Der Pissamannrundwanderweg (The Pissaman Hiking Tail)
A circular route through the Merler heights and forests.
The Lönshöhe
A beautiful lookout point for a walking break and refreshment station (opened only when the blue flag is up with the golden M for Moselwein advertising). Here you can refresh yourself with wine, soft drinks and snacks.
The Königshütte
A beautiful view can be seen over the top vineyards in the Merler Königslay terraces and Merler Adler, as well as the Marienburg Castle and Burg Arras on the opposite side of the river.
The Höhe 410
Above the Merler Bachtals, the magnificent forest reaches up almost to the 410-meter high 'Hunsrückhöhenstraße.' From there, many paths lead back down into Bullay, Senheim, or Beilstein.
Restaurants, cozy wine taverns, cafes and ice cream parlors welcome you in Zell, Merl, and Bullay.